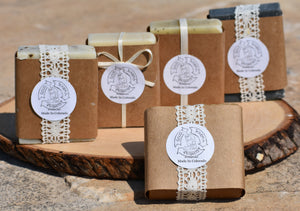 Buy this "Variety Pack of Soaps- Mix and Match- 4 Pack" and get a 4 pack variety mix of soap manufactured by Good Karma Products Incorporated.
Check out our online availability to see which soaps are currently available. Each soap on our website will include information on the bar and its best uses. 
In this purchase you get 4 count 4oz-5oz soap bars. In addition you will receive a free gift!
You can send your selections to GoodKarmaProductsIncorporated@gmail.com
If we don't hear from you after your purchase we will send an email asking what soaps you want. We will give you at least 24 hours to reply to our email before sending out your soaps. We impose this deadline to ensure a timely delivery of your soap but we may not have sent it out so if you miss the deadline you can always check with us. 
If you buy a soap item you can get 20% off a second soap item, Stone and Diffuser Bracelet, or other Good Karma Product with code "SECOND20". Apply discount at check out. Discount applied to lower priced item. 
Taxes included.
Buyer pays shipping. One four pack with shipping is $31.55 ($7.87 a unit). Two four packs would be $9.55 total in shipping costs or $49.15 for two four packs with the 20% discount ($6.14 a unit). Current free gift of 4 travel size bars roughly equals 1 bar so a purchase of a single four pack is really $6.31 a bar equivalent (counting the 4 free travel bar gifts as a bar) and a purchase of 2 four packs is really $4.92 a bar equivalent (counting the 8 travel bars as 2 bars). 
Ship to USA: 1-2.9lbs $9.55, 2.9lbs + $16.10
Note: Packaging and look of received soap may differ slightly. Ingredients may vary slightly. Reach out prior to purchase if subject to any allergies. 
Looking for more soap?
You can find 19 different types of Handmade Natural Soap on our website. All of it is Palm Oil and Coconut Oil free! 
Interested in browsing Malas? We now offer 70+ unique handmade Malas on our website including custom options.
More of a "DIY" kind of person? We also have begun selling Mala Kits! 
What about a stone bracelet? There are over 70+ different types of Stone and Diffuser Bracelets on our website. 
Fan of vintage and antique sterling silver? We have Vintage and Antique Sterling Silver Jewelry 
We also have our beard oils, perfumes, and essential oils online for sale in our Other Good Karma Products Collection.