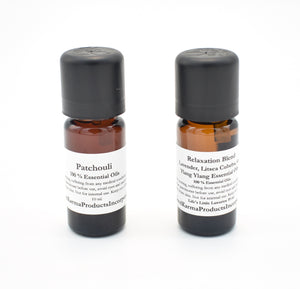 In this order you will receive a 2 pack of essential oils. These essential oils are not intended for consumption. Note 10ml bottle may vary in appearance. Current available essential oils include the following: 
Proprietary Blends (Mixture of different 100% pure essential oils):
Stress Relief - Orange, Frankincense, Rosemary, Lavender, and Sage
Headache Relief - Peppermint, Sage, Rosemary, and Eucalyptus. 
Sinus Relief - Eucalyptus, Tea Tree, and Peppermint
Relaxation - Lavender, Lemongrass, and  Ylang Ylang 
Essential Oils (One type of 100% pure essential oils):
Peppermint
Lavender
Eucalyptus
Patchouli
Tea Tree
Purchase of this 2 pack of essential oils includes shipping and taxes. 

If you buy this item you can get 20% off a second Good Karma Products' product such as  Stone and Diffuser Bracelet, Soap or Oil with code "SECOND20". Apply discount at check out. Discount applied to lower priced item. 
We have more beard oils, perfumes, and essential oils online for sale in our Other Good Karma Products Collection.
Do you like natural soap? You can find 19 different types of Good Karma Products Handmade Natural Soap on our website. All of it is Palm Oil and Coconut Oil free! 
We have many beautiful and elegant handmade Malas on our website including custom options.
If you are a "DIY" kind of person we have  Mala Kits! 
Check out Stone and Diffuser Bracelets. Over 50 different types of Stone and Diffuser Bracelets are available on our website.  
Fan of vintage and antique sterling silver? We have over 50 pieces of Vintage and Antique Sterling Silver Jewelry